Wheeler & Dusenbury / Hickory Valley Railroad
System Maps
Warren and Forest Counties, PA
Source: Allegheny Valley Logging Railroads, Walter C. Casler, 1977 (out of print)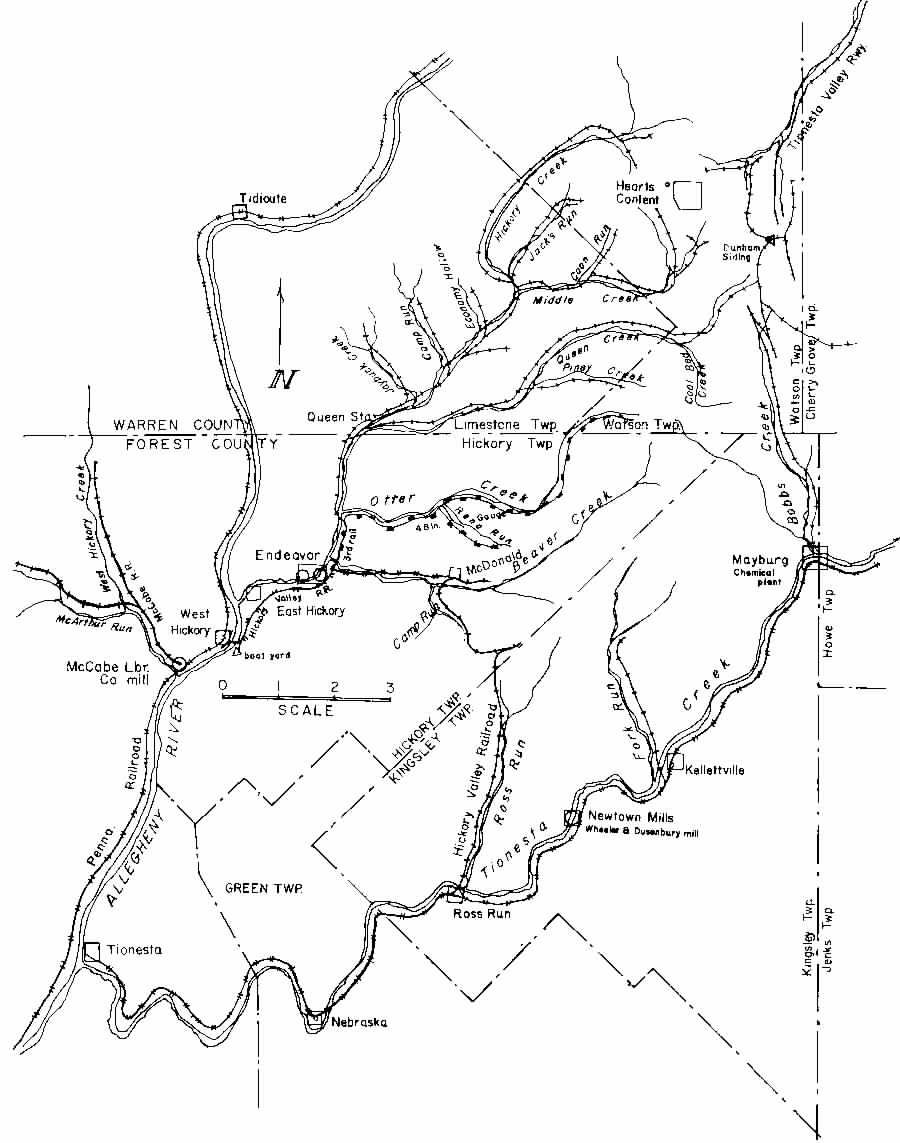 One of the more amazing recent development on the Internet has been the posting of online historic topographical maps. These relatively precise top maps show the W&D and Hickory Valley quite well and are properly labelled:
Maptech Historical Maps
West Hickory, Endeavor, Queen: (Tidioute Quadrangle SW, 1926)
Endeavor, Queen, Beaver Run (Tidioute Quadrangle SE 1926)
Note that this quadrangle also shows the Ross Run area and the Sheffield & Tionesta Railroad
Dunham Siding, switchbacks Mayburg Line (Sheffield Quadrangle SW 1935)
This quad also shows the Mayburg connection with the Sheffield & Tionesta.
With a decent printout of these quad maps, you can follow the grades of the railroad today!
NEW! HVRR ICC VALUATION MAPS
ICC Valuation: Location Map / Cover Sheet 1917
When the United States seized control of all privately-owned common-carrier railroads during WWI, the effort to pay them equitably for the seizure was to send teams of surveyors into the field to document EVERYTHING that a railroad owned. The resulting ICC Valuation Maps documented all railroads in high detail to survey quality, including every item of interest. Two original copies were made, one for the railroad and one for the Government. Even little Hickory Valley was documented, and the ICC Valuation Maps copies were located in the National Archives in Washington and scanned. Excerpts from those railroad maps are below, showing the track details as they were in 1917 in West Hickory and Endeavor.
West Hickory, PA ICC Valuation Map excerpt, 1917
Endeavor, PA ICC Valuation map excerpt, 1917
Because Wheeler & Dusenbury was a private logging railroad and not a common carrier, the railroad above Endeavor was not on the maps. Neither was the section to McDonalds, which was basically a mystery because the ICC reports always listed that track to Poors Manual of Railroads and the Pennsylvania Public Utilities Commission in the same year.
Page last updated 6-5-2011